Subliminal messages act as attraction accelerator for the law of attraction, be it physical attraction, mental attraction or spiritual attraction to manifest anytime, anywhere.
Wishing alone cannot manifest attraction. It needs getting a strong push from the subconscious energy that wholeheartedly stands for what the conscious mind is pulled toward.
It acts like a catalyst in a chemical reaction, facilitating the reaction without actually taking part in it physically in an obvious manner.
If this subconscious push is missing, the law will not hold good whether it is physical attraction, mental attraction or spiritual attraction; and what you are going to get is only the lukewarm results even in the best of scenarios concerning the said attraction.
There is certainly something there that is holding you back from manifesting what your attraction is pulling you toward.
It's the conditioning that your mental disposition is designed with at its subconscious level, which stands as an invisible obstruction in the way of your attraction getting manifested.
The question that stands paramount is how to get rid of this negative conditioning in the subconscious, sitting insistently stuck in the invisible depths of it.
Diamond cuts diamond!
Subconscious must be approached through subliminal means only. Subliminal recordings as accelerator for the law to manifest are designed in such a way as to straight enter the subconscious without even passing via the conscious route of mind.
It's done through setting their frequencies outside the range of the human audible perception. They are as invisible as the negative conditioning which they have been designed to vanish for once and for all.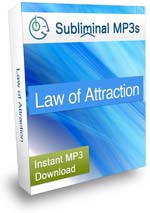 Though it doesn't happen in a single sitting with this audio album, yet with its continued use for a few weeks the problem just disappears as completely as it had never been there at all, paving way for your physical attraction, mental attraction or spiritual attraction to manifest in its total fullness!
This album works at its total efficiency when combined with the main Law of Attraction Subliminal in its use along with the rest in this category, namely Attract Money Subliminal, Attract Opportunities Subliminal, Attract Health Subliminal, Attract Your Dream Car Subliminal, Attract Your Dream House Subliminal, Attract Your Dream Holiday Subliminal, Attract Success Subliminal and Improve Visualization Skills Subliminal.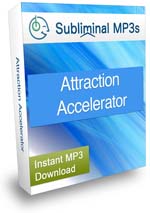 If you haven't tried Attraction Accelerator Subliminal yet then the time has come.
Also, my friends at SubliminalMP3s are giving 3 free subliminal mp3 albums you can try for yourself; one for relaxation, another for learning, and the third one for personal development.
This can be an ideal starter course with 3 powerful Subliminal Audio Albums with a Value of Nearly $50 from SubliminalMP3s for FREE.
You may leave any of these 3 subliminal messages switched on while you sleep and feel the benefits yourself.