Yes, the fountain of youth always springs out of or else dries up in the ground that the subliminal messages which you spontaneously pick up from the world around have prepared for it.
What are these messages that people generally pick up as they traverse their journey through the years of their life?
That's what the culture they are living in hands over to them, getting embedded in their subconscious mind as the subliminal conditioning they habitually start living their life with.
This conditioning becomes a blue print of their life, making them dance to its tune as they move forward on their journey through the years of their age.
All their acts along with the effects of those acts on their physical health as well as on their mental health do tell on the quality of life they are living it with.
But its most pronounced effect shows up in the level of energy they welcome the events taking place in their life with.
Unluckily, as the years pass by, they go on losing their curious interest that they once had in abundance as a child in all the things that happened to them whether good or bad.
Age goes on drying up the fountain of youth beauty they were born with, in the name of getting mature that our materialistic culture faultily takes its meaning like and hands it over to them as covert subliminal messages getting embedded deep into their security and safety conscious psyche.
In the name of getting mature, they only learn how to make compromises with the corrupt practices that abound around.
The spirit of life starts dying its death much before they would actually do so.
They live like dead men walking.
Yes, they walk everyday to their office, from pillar to post; without any thrill in their hearts for the work they are going to do there all through the day, instead taking it as a yoke on their shoulders to be thrown off for the evening when they would entertain themselves in the most mechanical ways.
At times, as if to break the monotony of the daily rut of life, they also walk to hospitals for getting their body aberrations repaired which by now have made their permanent homes in, there.
By now, their faces have lost all the freshness that the passion of life had once promised to them as they took their birth on earth, courtesy the faulty subliminal messages handed over to them in their psyche by the culture of the world around with the passage of the years in their life.
The fountain of youth song goes dried up fast!
We need a new set of subliminal messages to fill our life not with age but with passion that would give it a real reason to live, by getting embedded in our subconscious replacing the one that made us prematurely old.
We immediately need to rejuvenate ourselves physically, mentally and spiritually irrespective of whatever age we are of at the moment.
We need to rejuvenate our body.
We need to rejuvenate our mind.
We need to rejuvenate our spirits.
There is this new subliminal album that has been designed to take care of all the rejuvenation of the body, the mind and the spirit.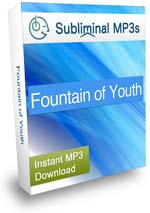 If you haven't tried Fountain Of Youth Subliminal yet then the time has come, now.
Do subliminal messages work?
My friends at SubliminalMP3s are giving 3 free subliminal messages mp3 albums as free subliminal audio downloads you can try for yourself.
One of them is for relaxation, another for learning, and the third one is for personal development.
This can be an ideal starter course with 3 powerful Subliminal Audio Albums at a value of nearly $50 from SubliminalMP3s for FREE.
You may leave any of these 3 albums switched on while you sleep and feel the benefits yourself.