Subliminal communication eradicates fear of public speaking making the best of all public speaking tips available for help in addressing social gatherings, sales presentations and mass communication channels.
Have you ever given a presentation in front of a big gathering where hundreds of eyeballs are gazing at you, focusing all their attention on what you are going to speak in front of them?
Do you remember, or can you imagine, what your condition might have gone like in such a scenario you find yourself to be responding to?
May be your breath goes short, your heart starts pounding, your face starts sweating, your legs start trembling and your tongue goes stuttering as you try to utter your first words addressing the congregation in all probability, in case you are not quite used to it or else are not very confident at what you are presenting to the people in front of you.
You find yourself unable to look into the people's eyes, all of them looking at you only!
You steal eyes, and as you do so the words in your mind get stolen as well.
You just go blank.
Your address or your presentation goes flop, and you come out of this experience adding another node of fear to your already existing fear of public speaking; though you had tried all the available public speaking tips to improve your performance as you went along with it.
Wouldn't you have liked it to be an event of joyful interaction with people who were all looking into your eyes through reciprocating to them by looking into theirs like you look into your lover's eyes?
Wouldn't you have liked it to be as natural a chat with people like you have it with your best friend in the moments of your most relaxing leisure?
Wouldn't you have liked it to be an event of socio-cultural celebration to participate in rather than a challenging examination on your nerves to pass?
You certainly would!
And you certainly CAN!
You certainly can do away with every single fear of public speaking through helping yourself by listening to the best public speaking tips of them all, i.e., the effective public speaking subliminal messages facilitating extraordinary subliminal communication rather than a consciously formal and substandard addressing at any and every public gathering.
It does so through embedding subliminal messages in the depth of your subconscious mind taking care of speaking in the moment, here and now, in any such public gathering in such a spontaneous way as feels to you like simply chatting with your friends casually or expressing yourself in depth in front of your lover!
You will never be needing any other public speaking tips or facing any fear of public speaking in your life once you learn the art of subliminal communication with people whether one on one or else one on thousands as in the really large public gatherings, using subliminal messages alone.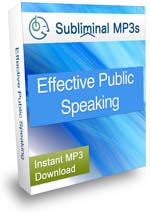 If you haven't tried Effective Public Speaking Subliminal yet then the time has come for you to ingest the best public speaking tips in the subconscious depths of your mind to get rid of every fear of public speaking with subliminal communication using subliminal messages at your disposal, now.
My friends at SubliminalMP3s are giving 3 free subliminal mp3 albums you can try for yourself.
One of them is for relaxation, another for learning, and the third one is for personal development.
This can be an ideal starter course with 3 powerful Subliminal Audio Albums at a value of nearly $50 from SubliminalMP3s for FREE.
You may leave any of these 3 subliminal messages switched on while you sleep and feel the benefits yourself.